Children enjoy the creche whilst parents reward themselves with health
Creche Service
The Annerley studio has a creche room set in our garden space. The space is air conditioned and has toys and activities for children of up to school age. Many clients attend regular weekly classes, so we hope to match children to a regular spot with children of similar age ranges. We also accommodate those who are bringing their children while attending therapy appointments at the studio.
Children must be booked into the creche so we can ensure we have the appropriate number of carers available. Please notify us 24 hours prior to your appointment if you decide not to bring your children, as this will free up a spot for another parent.
You may not leave the premises at anytime whilst your children are in our care.
The first time that your child stays at the centre we will ask you to come about 15 minutes earlier to fill out forms. This also provides the opportunity for you child to become familiar with the environment so they feel comfortable with their carer and other children.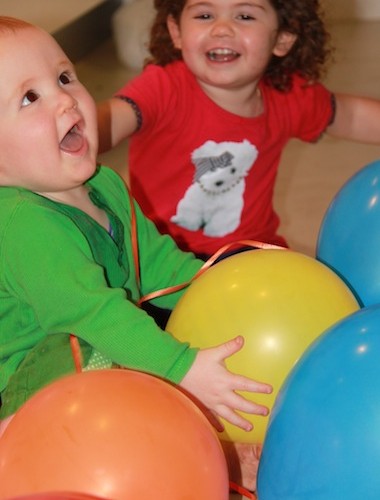 Arrival
//   Ensure you arrive 15 minutes prior to your appointment time.
//   Sign your children in on arrival.
//   Speak to the carer about your child and tell her about any special care your child may need.
//   Identify your nappy bag and your child's snacks and drink. Please label everything with your child's name clearly.
Departure
//   Ensure that you speak with the carer before leaving the creche.
//   Sign your child out of care.
//   Don't forget to collect any medications or other items that you have brought with you.
Important

Children will not be released to any person other than the person signing them in. If they are to be collected by another person please leave their name with the staff member caring for your child. And remind them to bring photo ID As we will need to check it.
Suncream should be applied before you come to the centre, however if you do forget we can do that when the child arrives.
What if my child has allergies or special needs?
The creche is a peanut free zone, so if you are bringing food or snacks for your child, please ensure it does not include any nuts. This is for the safety of other children and adults.
Parents attending with children who have special needs are welcomed. If your child has special needs and will need a higher level of care, please call us and talk to us in advance so that we can make adjustments for your child's needs. Our carer has special skills in this area but it is important that we are fair to both your child and other children. To account for your child's higher needs we may need to charge more for that time in our care but we would discuss that cost with you.
How much does it cost?
A nominal fee of $5 per hour that the child is in our care.
Things you need to bring
//   Snacks – healthy is always better, no peanut products please.
//   A drink for your child. We provide filtered water. Please no coke or sugary softdrinks.
//   A change of clothes.
//   Extra underwear for children who are toilet training.
//   Appropriately labelled nappy bag with nappies and cream.
Our carer is a fully qualified child care worker with a current blue card. Find out more.