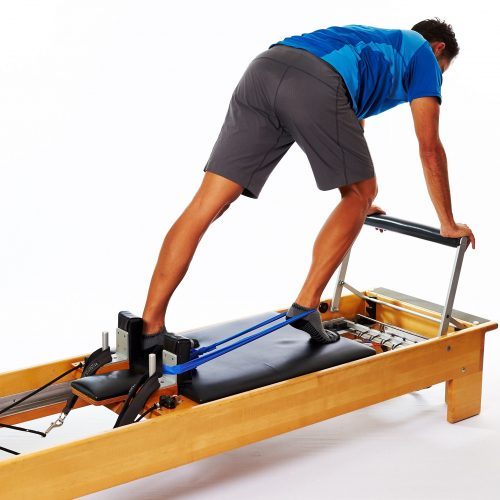 The Pilates Reformer and Mat Course is a great starting point for Exercise Physiologists, Exercise Scientists, Physiotherapists, Occupational Therapists and Osteopaths wanting to incorporate the Pilates Reformer into their rehabilitation and exercise practice. It is also suitable for those people wanting to transit from a gym setting, yoga teaching scenario to group Pilates classes.
This 80-hour course is part of a series of courses using the Reformer and mat apparatus. It is designed so that practitioners can do a single Reformer and mat module if they prefer, or complete all four of the modules to provide a complete understanding of the Pilates repertoire as it applies to specific areas of the body and specific focus points. The Pilates Reformer and Mat Course course consists of four separate modules, each module being 20 hours in duration and will be run over four separate long weekends.
//     Reformer One and Mat One – Leg, Footwork and Hip Disassociation
//     Reformer Two and Mat Two  – Arms and Upper Body
//     Reformer Three and Mat Three – Spinal Articulation, Additional Legs and Body Integration
//     Reformer Four and Mat Four – Box Work, Sides and Back Extension
The Pilates Reformer and Mat course is unique in that it does not simply classify repertoire as beginner, intermediate or advanced. Rather we teach modules that allow participants to understand repertoire within different contexts and how the work can be introduced to injured or new clients, as well as to specific groups of clients like runners or swimmers. We also cover how it is progressed as a client needs greater muscular and endurance challenges as well as coordination and control.
The course material was developed over many years through clinical experience and applied in multi- disciplinary practices and in fitness settings. The modules focus on practical functional application of the Pilates method for practitioners working with real clients.
In this course participants will be given an understanding of:
//     The components of the Pilates method;
//     The basic movement shapes and patterns within the Pilates method;
//     Repertoire of the lower limb as well as hip disassociation family and the role of the femoral head movement in spiral and glide, plus sacral nutation and how this will impact on exercise choices and modifications;
//     Understanding how to cue and observe correct muscle activation and joint placement;
//     Understanding of modifications and variations for specific injuries.
Course participants receive comprehensive manuals detailing the repertoire. Each manual is professionally photographed and laid out, addressing the focus or purpose of the exercise, teaching points, modifications and variations, related exercises and contraindications.
Course fees
You can enrol in just a single module of your choice, or two, three or all four Reformer modules. Students will receive discounts when enrolling in more than one of the modules (discounts will be applied in the shopping cart). The course fees below include all colour manuals and tuition.
//     Enrol in one module for $950 ($900 early bird rate)
//     Enrol in any two modules for $900 each ($850 early bird rate)
//     Enrol in any three modules for $850 each ($800 early bird rate)
//     Enrol in all four modules for only $3200 ($3000 early bird rate)
Course dates and location
Module One   14-15 March 2020 (Early Bird finishes 14 February!)
Module Two    16-17 May 2020 (Early Bird finishes 16 April!)
Module Three   13-14 June 2020 (Early Bird finishes 13 May!)
Module Four    15-16 August 2020 (Early Bird finishes 15 July!)
A special review date (8 hours, included in the course fee) will be organised after the students have completed the modules.
Encore Pilates
47 Stuart Hwy
Stuart Park, Darwin
Currency Converter
Currency conversions are estimated using the latest exchange rates and should be used for informational purposes only. Checkout will be in Australian dollars (AUD).
[woocommerce_currency_converter]