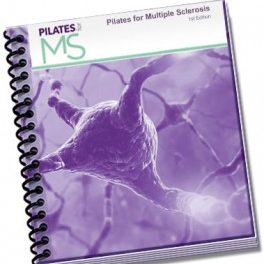 Teacher
Meghann Koppele
Date
22/06/2018
Location
Encore Pilates
47 Stuart Hwy
Stuart Park NT 0820
Time
from Friday 1.00pm
Duration
16 hours
Want to delve deeply into working with neurological conditions? This acclaimed course covers the multiple sclerosis, Parkinson's and stroke disease processes in depth, as well as issues common to many neurological diseases, including balance difficulties, weakness, muscle spasticity and rigidity, bladder problems, gait abnormalities, as well as the principles and applications of neuromuscular rehabilitation and neuroplasticity in exercise.
You will learn how to assess causes of balance problems, work with single side weakness to create better muscle balance, diagnose ineffective compensations and help remedy them, the importance of how and when to stretch to manage spasticity, and techniques to create "detour circuitry" in the brain and spinal cord to work around existing nervous system damage, and much more.
Since the course covers so many problems common to the average student, you will have tools to work with students of nearly every population, especially the aging, and those with neurological conditions or muscle imbalances. Pilates for Neurological Conditions is offered as a 16 hours of  training, recognised with 16 CECs (continuing education credits) from the Pilates Method Alliance. It is also core curriculum for the Women's Health Pilates Specialist Certificate™ through the Center for Women's Fitness, and the course is also offered in Europe through MBodies Training Academy.
The 300+ page reference textbook with hundreds of exercises is  the same book used in the course, and is included in the course costs
Attendees to this course will earn 15 CEC and PDP points with APMA and PAA.
PMA (USA) recognises this course for continuing education points.
Meghann Koppele
Meghann Koppele is a Kane School, Pilates Method Alliance, and iM=X certified instructor as well as a Certified Strength and Condition Specialist (CSCS) through the National Strength and Conditioning Association. She has also completed the Functional Anatomy for Movement & Injuries Workshop at Mt. Sinai Medical Center.
Meghann received her undergraduate degree in exercise science from the University of Scranton and a Master's degree in Applied Physiology from Columbia University. After completing her Master's degree, Meghann opened a Pilates studio in Hoboken, New Jersey, where she worked with clients with a variety of conditions including severe back pain, sports injuries, pre- and postnatal, and multiple sclerosis. She also worked with clients who simply wanted better fitness or to achieve their weight loss goals.
After five years running a studio, Meghann decided to sell her business to refocus on her first love – teaching and helping others. Over the past twelve years, Meghann has had the privilege of working closely with many clients with multiple sclerosis (from early stage to advanced), as well as their doctors. After compiling medical research and anecdotal evidence, she created her own Pilates-based protocol to help her MS clients. Realizing that teachers were ill-equipped to work with this population, she joined forces with Kelly Kane and Matt McCulloch via the Kinected Mentor Program to help her further develop her work into a workshop for other teachers, personal trainers, physical therapists, and other rehab specialists.
When she learned of Mariska's work with MS, Meghann contacted her and suggested they talk. After an auspicious meeting in 2014, the two decided to combine forces. They realised that their programs were entirely complementary (down to the way each teacher believes a session should begin). Meghann met with Mariska over the course of several days in order to come on board as a teacher trainer for the larger (3-day) Pilates for MS course. She also teaches her half-day overview workshop based on her original program design.
Course dates and times
| | | |
| --- | --- | --- |
| Friday | 22 June 2018 | 1.00pm – 6.00pm |
| Saturday | 23 June 2018 | 1.00pm – 6.00pm |
| Sunday | 24 June 2018 | 8.00am – 4.00pm |
Specialist course deal
Course
Early bird fee
Discounted early bird rate
(for those who have previously attended a Body Organics specialist course, or wishing to attend multiple specialist courses)
Course fee

Pilates for Neurological Conditions (16 hours)

$1200

$1000

$1500

Advanced Pilates for Neurological Conditions (16 hours)

$1000

$900

$1300

Cancer, Lymphoedema and Exercise (16 hours)

$750

$700

$850
If you would like to access the multi course discount rate please contact us directly via education@bodyorganics.com.au and we can invoice you directly.
Early bird special ends 8th April 2017!