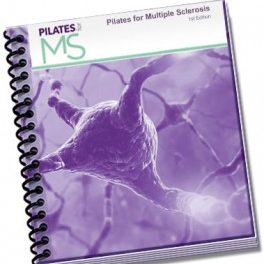 Special
Teacher
Mariska Breland
Date
18/07/2020
Location
Bodhimaya Pilates Centre
2/167 Bondi Rd, Bondi NSW 2026
Time
from Saturday 1.00pm
Duration
16 hours
Want to delve deeply into working with neurological conditions? This acclaimed course covers multiple sclerosis, Parkinson's and stroke disease processes in depth, as well as issues common to many neurological diseases, including balance difficulties, weakness, muscle spasticity and rigidity, bladder problems, gait abnormalities, as well as the principles and applications of neuro-muscular rehabilitation and neuroplasticity in exercise.   
You will learn how to assess causes of balance problems, work with single side weakness to create better muscle balance, diagnose ineffective compensations and help remedy them, the importance of how and when to stretch to manage spasticity, and techniques to create "detour circuitry" in the brain and spinal cord to work around existing nervous system damage, and much more.
The course covers many issues common to the average student, and you will learn tools on how to work with nearly every population, especially the aging, and those with neurological conditions or muscle imbalances. Pilates for Neurological Conditions is offered as a 16 hours of  training, recognised with 16 CECs (continuing education credits) from the Pilates Method Alliance. It is also core curriculum for the Women's Health Pilates Specialist Certificate™ through the Center for Women's Fitness, and the course is also offered in Europe through MBodies Training Academy.
The 300+ page reference textbook with hundreds of exercises is  the same book used in the course, and is included in the course costs
Applications for CEC and PDP are pending with with APMA and PAA.
Mariska Breland
In 1999, Mariska took her first Pilates class. After a 2002 diagnosis of MS, she became a devoted yoga and Pilates practitioner and taught her first class a year later. Today, Mariska is the lead instructor for Fuse Pilates, a contemporary Pilates method based in Washington, D.C., for which she developed all of the group classes and training programs. Mariska is also the inventor of the Fuse Ladder.
Mariska completed a research project on Pilates for multiple sclerosis patients as part of her comprehensive Pilates certification through Body Arts and Science International (BASI Pilates). She later expanded that research into an in-depth multi-day Pilates for Neurological Conditions advanced teacher training course and incorporated the latest research in neuroplasticity and neurorehabilitation into a program designed for people with MS, stroke, Parkinson's disease, and other neurological conditions.
As a student of medical neuroscience, Mariska has also designed workshops that focus on how to integrate brain science into exercise programs to enhance performance and improve neurological function. She has worked directly with students with MS, stroke, spinal cord injury, neuropathy, Parkinson's disease, Amyotrophic lateral scelrosis (ALS/Lou Gehrig's disease), and Charcot-Marie- Tooth disease. She regularly consults with Pilates teachers around the world as well as neurologists, physical therapists, and physiatrists to help them work with clients with MS.
Mariska's education in the movement arts is vast and includes Pilates mat certification through Power Pilates and additional apparatus, mat, and anatomy training through Balanced Body Pilates and Peak Pilates. She is also certified in PureBarre, and maintains a thrice-weekly habit of private Pilates and physical training to maintain her own fitness. From 2010 until his death in 2013, Mariska studied in a one-on-one mentorship with renowned Pilates Master Julian Littleford, founding member of the PhysicalMind Institute and one of the world's most creative and innovative Pilates instructors.
Mariska is a Pilates Method Alliance (PMA®) Certified Pilates Teacher and Continuing Education Provider. She is a Prenatal and Postnatal Pilates Specialist, trained through the Center for Women's Fitness directly with its founder, Carolyne Anthony, who invited her to join the organization as faculty. She is also a Post Rehabilitative Breast Cancer Exercise Specialist, trained through the Pink Ribbon Program. In 2013, she completed Pilates Studio Techniques in support of Heroes in Motion, which overviews skills to work with amputees and persons with traumatic brain injury. Additionally, she has advanced certificate training in Pilates for Injuries and Pathologies, the Pathology of Neurodegenerative Diseases, and specialized training in Pilates for athletes and for men.
Times and dates:
Saturday 18 July 2020    1 pm – 8 pm
Sunday 19 July 2020     8 am – 5 pm
Early bird special $1200 – ends 30 April 2020! Full price $1500. 
To secure your spot pay 50% deposit now. To take advantage of the early bird special the full amount needs to be paid by 30 April 2020.
Mariska Breland is visiting Sydney, Melbourne and Brisbane when she's in Australia and teaching the following courses:
Mariska Breland is visiting Sydney, Melbourne and Brisbane when she's in Australia and teaching the following courses:
Pilates for Neurological Conditions – Melbourne & Sydney
Understanding Parkinson's Disease for Movement Professionals – Sydney & Brisbane
Understanding Stroke for Movement Professionals – Brisbane
Fuse ladder teacher training – Brisbane
For full details of courses with dates and times please click on the respective course under the relevant city on the website, or follow link above.
Book more than one course and receive 10% discount. Please contact us at education@bodyorganics.com.au to receive your discount.
Please contact us at  if you have any questions.