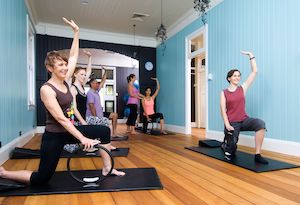 Purchase a 10-pack of Pilates Group Matwork classes to use at the West End studio.
Pilates Group Matwork – A defined program of Pilates exercises for groups of up to 8 clients.
At our West End studio we offer a variety of mat pilates class types including pilates, pre and post-natal pilates and stretch therapy. In our mat classes you will be working in a group of up to 8 clients with one teacher. These classes work as a group through a defined program of exercises, but the group is still small enough so that exercises can typically be modified slightly for individuals within the group.
In pilates mat classes you do not use the large equipment, as all exercises are performed on a mat. There is, however, a range of small equipment that's incorporated into some classes, for example fit-balls, pilates hoops and small weights. A mat class can be very good for cardio fitness as well as general toning, however it normally is not suitable for addressing specific injury or postural problems.