Take your knowledge of body movement and health to a better place with Body Organics® education and training programs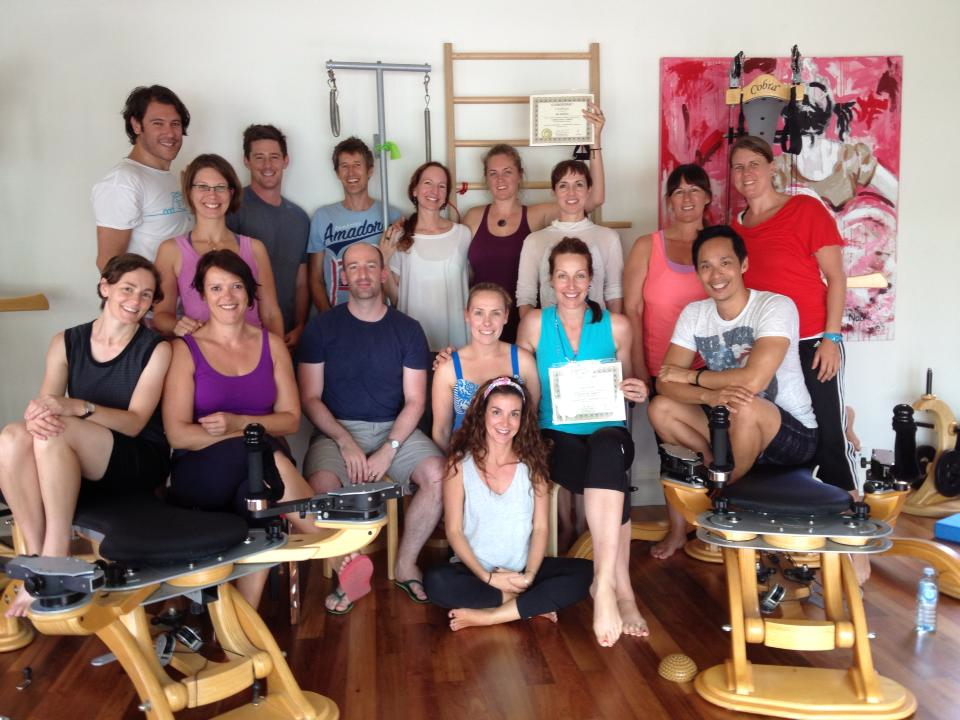 Whether you are just looking to start your career in the body movement and health industry or to improve your knowledge and skills in your chosen profession, Body Organics may have a course for you. We provide a comprehensive range of education, training and professional development courses across a range of body movement and health disciplines.
With us you can undertake training to certification and diploma levels as well as choose from a variety of continuing professional education courses. We have two comprehensively equipped studios and trained staff members who can help you become certified and recognised as teachers by the relevant national association. Our years of experience and multidisciplinary approach has meant that our graduates are able to work in a wide variety of environments from fitness right through to rehabilitation.
What sets Body Organics' education programs apart?
Complement your study with our accredited online courses:
Whether you are just looking to start your career in the Pilates industry or to improve your knowledge and skills in your chosen profession, Body Organics Education may have an online course for you. We provide a comprehensive range of education, training and professional development Pilates courses that you can access online at any time. The workshops range from Foundational, Repertoire and Specialist Courses.
LEARN ONLINE TODAY.
Local availability:
We run courses around the country, including all capital cities and quite a number of regional centres. Instead of students having to periodically fly in / fly out for training blocks, our teachers will travel to your town (subject to enrollment numbers). You will be able to access in-person tutorials and supervised clinical practice sessions rather than by phone or video conference. Also, what you are learning in the theory modules can be more clearly evidenced in the practical observation modules and in your classes. Our students participate in supervised clinical training tutorials throughout their course involvement as a means of practicing and consolidating their knowledge before they have to work with "real" clients. These clinical tutorials are all included as part of your fees with no additional fees for this mentoring.
Student placements:
Students have the opportunity for placement within one of our two Brisbane studios. Obtaining placement in the right teaching environment is considered an integral component of effective training. You don't pay extra for your mentoring when you study with us. The mentoring and support needed for students to get the teaching practice is all included in your upfront costs. When comparing the costs of your training it is important to understand what is included in your full training.
Access to multidisciplinary professionals:
The Body Organics studios in Brisbane are comprehensive multidisciplinary practices so we have access to a deeper understanding about the integration of movement and biomechanics. Students will benefit from the expertise of movement professionals, physiotherapists, podiatrists, osteopaths, nutritionists and paediatric specialists. This helps you to develop the skills and critical thinking for different types of bodies and personalities.
Depth of understanding:
At Body Organics we understand that movement education is more than just teaching a series of exercises. It is about understanding the components of movement and the cues that can get a person to move and to go through the processes of recovery, reintegration and rehabilitation. Our courses are designed to give students a theoretical understanding of the method and a practical understanding of anatomy when it comes to movement, critical thinking and solutions.
Self Mastery classes:
These special classes are available for candidates to self master and ask questions about their progress. Supervised semi-private classes available to candidates at set times at heavily discounted prices ($20 per class) and students are also able to participate in discounted mat classes.
Backed by the APMA:
Our diploma level Pilates courses are offered in conjunction with the Australian Pilates Method Association (APMA), the industry's peak body and advocate for professional qualifications for Pilates instruction in Australia as well as overseas. Body Organics is proud to be an approved provider of the diploma course on behalf of the APMA.
Find out more about the courses offered:
// Accredited Online Pilates Courses
// Anatomy Dimensions courses
// Diploma of Pilates Movement Therapy (NAT10567)
// Advanced Diploma of Pilates Movement Therapy (NAT10568)
// Bridging Course to Diploma of Pilates Movement Therapy
// Gyrotonic Method Level 1 Teacher Certification
How do I get started and take my movement knowledge deeper?
Call us now on +61 7 3724 0470 or register your interest and we'll email you information on our courses and an enrolment form.