There's a Pilates exercise class type to suit everyone with our Pilates studio equipment and group matwork classes
Body Organics in Brisbane offers a variety of pilates class types including studio equipment classes as well as mat classes. Our studio equipment classes are held at our Brisbane locations (Annerley and West End), while mat classes are only held at the West End studio. To help you decide which is best for you, each type of class is described below.
Studio equipment classes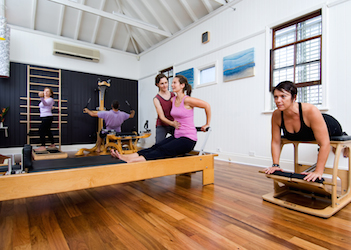 Studio equipment classes are quite personalised, with a maximum of 4 clients per teacher. These sessions can utilise a range of pilates, Gyrotonic, CoreAlign and other specialised equipment.
In a studio class each person is undertaking their own tailored program. You are supervised by a teacher who will, depending on your body's needs at that time, vary the exercises as required. This style of class ensures that you receive feedback and assistance in moving your body with the correct muscular patterning.
Pilates studio classes involve the use of specialised equipment to help guide, support, control and challenge your body as you move through the exercises. Our teachers draw from an extensive range of specialised equipment such as the Reformer, Cadillac and Wunda Chair, as well as the innovative Gyrotonic, Gyrotoner and CoreAlign. As your body becomes stronger and more stable, you will be given new exercises to increase the level of challenge. Studio work is ideal for addressing your body's specific needs, e.g. postural problems, rehabilitation from injury or achieving particular goals.
There are 3 options as to how you can attend a pilates studio equipment class:
//    Semi-private class:     no more than 4 clients per teacher, each doing your own program
//    Duet class:     share your class with a friend, no more than 2 clients per teacher
//    Private class:     private one-on-one class for 100% of the teacher's attention
Check our timetable for pilates studio equipment classes to find one that suits your schedule.
Pilates mat classes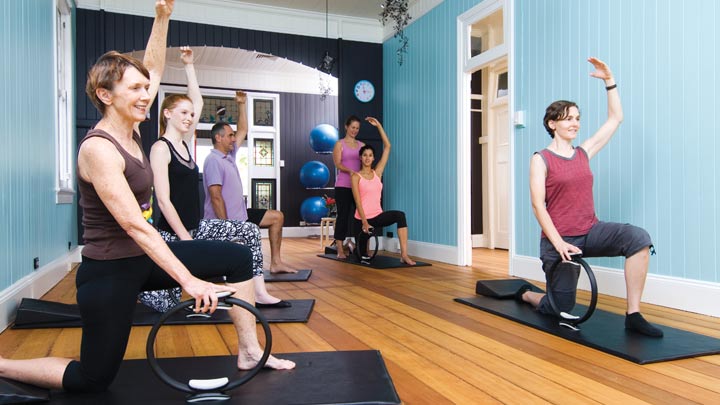 At our West End studio we offer a variety of mat pilates class types including pilates, pre and post-natal pilates and stretch therapy. In our mat classes you will be working in a group of up to 10 clients with one teacher. These classes work as a group through a defined program of exercises, but the group is still small enough so that exercises can typically be modified slightly for individuals within the group.
In pilates mat classes you do not use the large equipment, as all exercises are performed on a mat. There is, however, a range of small equipment that's incorporated into some classes, for example fit-balls, pilates hoops and small weights. A mat class can be very good for cardio fitness as well as general toning, however it normally is not suitable for addressing specific injury or postural problems.
Joseph Pilates originally developed studio equipment pilates as a means of improving the strength and flexibility of his clients, many of whom were unable to perform his more strenuous mat exercises when they first started. This is important to remember when you are starting your mat classes, as at an intermediate to advanced level pilates matwork is very hard and requires skilled supervision by the teacher. If you are at the beginner to early intermediate level we will be working to ensure you have good basic core strength, then you can safely progress to an intermediate level mat class.
Check our timetable for mat classes at the West End studio.