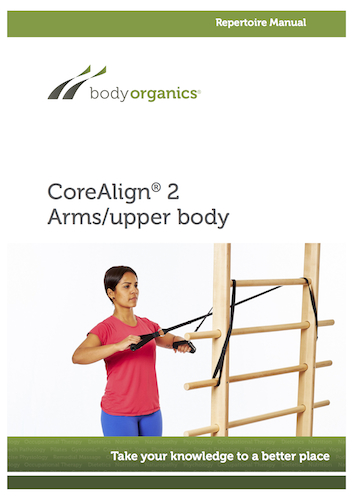 Take your knowledge deeper with our CoreAlign repertoire manuals, now available in eBook format. Each of the four manuals in this series encompass a specific category, allowing readers to understand the particular exercises and how they can be progressed in complexity. These innovative and practical manuals include detailed descriptions, purposes and movement analysis; complete with clear colour photographs and illustrations.
CoreAlign 2 focuses on exercises for the arms and upper body. More than just beginner, intermediate and advanced exercises, it is a broader picture of how to challenge those with different ability levels. With ample exercises featured over 47 pages, there are multiple variations and modifications to make the exercise appropriate for each individual client.
The CoreAlign 2 repertoire manual is ideal if you are a Pilates or body movement professional wanting to build on your training, further enhance your skills and take your knowledge deeper. It is a unique product as there are no other CoreAlign repertoire manuals currently available to the public.
CoreAlign® teacher training
Pilates Stands Up is a series of online courses that will help you understand the CoreAlign in the context of the Pilates method and to learn how to use this versatile piece of equipment to its fullest potential. These courses are intended to provide pilates and movement teachers with the opportunity to draw connections and identify patterns on the CoreAlign® by Balanced Body® to the traditional Pilates equipment and repertoire. These courses are aimed at teachers who have done their Pilates teacher training certification and now are looking for more detailed cueing techniques, adaptations and modifications using the CoreAlign apparatus. The courses include 80 videos showing multiple CoreAlign exercises in how to incorporate CoreAlign into a pilates studio or physical therapy practice. You can find more information at our training website Body Organics Education.
Buy the CoreAlign 2 eBook now and instantly download in PDF format!
SPECIAL
Buy 4 or more of our Resource Manuals (any combination of eBooks and hardcopies) to receive a 25% discount off each manual! Your discount will be deducted in the shopping cart.