Pilates studio Director, Trainer & Teacher
Body Organics Brisbane
Carla Mullins is co-director and co-owner of Body Organics. She has primary responsibility for the studio and educational aspects of the business, including teaching, training, skills development and mentoring of instructors.
In this podcast you can find out more about Carla.
Carla started her career as a Solicitor and practiced for nearly 13 years. Having had very little innate grace and being very much a bookworm at school and university, Carla's late change from lawyer to pilates teacher and studio owner was a bit of a surprise for many people. Im 2018 she commenced her 4 year study of Occupational Therapy at the University of Queensland, just to add another dimension to her work and understanding.
Carla came to pilates in 1993 because of complex neurological and health problems. She was all a bit of a mess and needed to be taught to move properly from scratch.  She had several major set backs on her journey including loss of use of both her arms, the neurological pain and long process of recovery from this gave her a deep insight into pain and recovery Application and consistency meant that Carla regained her health and was able to move with some grace, and more importantly without pain, to the point that in 2002 she decided to set up her own studio in Brisbane. Twelve years later she now teaches at her two studios and mentors many pilates and Gyrotonic teachers, some of whom are osteopaths and physiotherapists.
The curiosity and tenacity that allowed her to practice law and regain her health has meant that she continues to study, train and explored anatomy and movement in as many mind-body disciplines as possible. She needs to understand why pain or restrictions are affecting a person's ability to move and works with people so that they can understand how their body works. Also how it could work better, not only in a studio setting, but in people's everyday lives whether they be an athlete, mother, office worker or tradesperson.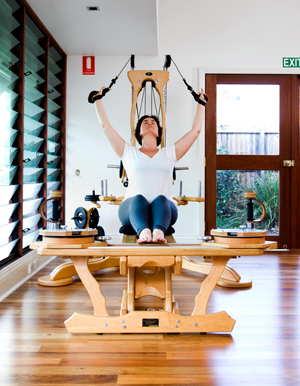 She has explored many mind-body techniques in workshops and training courses including Aston Technique, Franklin Method, Structural Integration and Yamuna Body Rolling. Particular interests of Carla's are feet and gait, so much so that she has travelled from New York to Perth and wherever necessary to learn more about feet and gait.and patterns for the individual. Carla wants to help people understand movement and get them to reproduce that movement, either in a particular exercise or in a functional setting. Key to that understanding is how to see the body as a whole, communicating and adapting to the individual's needs.
An interesting article in Brisbane's popular West End Magazine expands on Carla's background.
Carla is a Level 4 Professional Practitioner with the APMA and  PAA  and is PMA Certified has studied pilates with PITC, Polestar as well as the APMA. She also has a LLB (QUT), M. Soc Sc & Policy (UNSW), Diploma Pilates Professional Practice (PITC), Diploma of Pilates Movement Therapy NAT10567, Advanced Diploma of Pilates Movement Therapy NAT10568, Gyrotonic Level 1, CoreAlign Level 1, 2 and 3, Aston Technique Level 1 and Stretch Therapy Level 1. She has also trained in the Pilates for neurological conditions courses in NY (USA) and then again in Australia.
Carla regularly writes articles on pilates , rehabilitation and movement for the APMA and the PAA.  She runs courses and workshops for movement practitioners in Australia, New Zealand and Spain that are recognised by the APMA, PAA , PMA and ESSA.
Carla has also completed further Gyrotonic training:
//     Gyrotonic from an Osteopathic Perspective
//     Gyrotonic application to the Shoulder Girdle (HK)
//     Gyrotoner
//     Jump Stretch Board
//     Gyrotonic Application for Breast Cancer Survivors (HK)
//     Gyrotonic Application for Pre and Post Natal (HK)
//    Gyrotonic Application for Scoliosis ( LA)
In 2014 Carla travelled to Bali for a Gyrotonic rejuvenation retreat with Juliu Horvarth, creator of the Gyrotonic Expansion System.
Carla has also completed a Certificate IV in Training and Assessment to complement her work with Body Organics Education.
Carla is also inspired by the work of Bonnie Bainbridge Cohen and the Body Mind Centering Technique. Whenever possible she is trying to find a way to attend more training in this area of embodied movement.
Carla can be found teaching pilates and Gyrotonic at all  Body Organics studios in Brisbane: West End, and Annerley.
Carla regularly writes and contributes blog articles for various pilates associations on topics of interests to movement teachers around the world. Each week Carla posts an exercise of the week as part of her educational focus for movement education teachers and clients.  An example of her approach to teaching with humour and focus is below
Our e-newsletter will keep you informed with valuable articles and videos on pilates, exercise and health