7 key exercise considerations for lymphoedema
Tue,Jan 05, 2016 at 05:35PM by Carla Mullins
This article is a partial extract from our Cancer and Lymphoedema training course being offered from this year, with Santa Barbara Workshop scheduled for April 2018  and  New Jersey Workshop in May 2018. The course will take students through the definitions and considerations for various types of cancers as well as the physical consequences of treatment. It includes a comprehensive analysis of lymphoedema as well as a detailed manual of how pilates apparatus can be used to assist in upper and lower limb affected lymphoedema. One of the Anatomy Dimensions series of workshops for movement professionals, for this course you can earn continuing professional development points towards your APMA, PAA and ESSA accreditation.
What is lymphoedema?
Lymphoedema is a condition of localised fluid retention and tissue swelling caused by a compromised lymphatic system (the system that normally returns interstitial fluid to the thoracic duct and bloodstream). The condition is frequently seen as a side effect of cancer treatments.
Key exercise considerations for lymphoedema
When working with a client who has lymphoedema or significantly compromised lymphatic system, the following are considerations when programming an exercise class:
1.   Movements should be completed in an order of proximal to distal. This enables clearance of lymph nodes and vessels close to the torso, so that fluid from the affected limb/s can then be pushed closer towards the chest as the exercises progress.
2.   Working progressively through the lymphatic system (proximal to distal) can be a good way to warm up and prepare the lymphatic system as well as a cool down and offloading sequence at the end of an exercise session.
3.   Resistance and weight-bearing must be progressed gradually in order to prevent overloading of the lymphatic system.
4.   Care must be taken in case of recent events that may cause a change in lymphatic load i.e.: moving house, plane travel etc. In such cases lymphatic drainage and interstitial fluid will need to be monitored and resistance or higher loading exercise may need to be scaled back for a short period. If lymphatic changes are noted, referral to a lymphatic specialist should be prompt in order to ensure appropriate management.
5.   It is important to utilise the diaphragm via deep breathing to aid the return of lymph fluid from the periphery. When you inhale the diaphragm contracts and descends, decreasing the pressure in the thoracic cavity which then allows air to overcome the resistance of lung tissue and fill the lungs with a fresh breath. That same negative pressure inside the thoracic cavity can aid lymph to return towards the lymphatic ducts and drain back into the venous system.
6.   Gravity can also be of great aid in clearing lymphoedema from the limbs. When working with any of supported/semi/or unsupported elevated positions the lymph is able to drain with the use of gravity "down the sink" and back into the venous system. Of course exercise from a seated and standing position is also very beneficial for the management of lymphoedema, however supine work should always be considered, particularly if the patient is having a period of overload through the lymphatic system.
7.   Compression garments can aid lymphatic return during exercise by providing a more rigid limb "wall". As the muscles contract and expand with exercise this rigidity aids in pushing the lymph along. For example imagine a regular hose and one made from balloon material. The water will move down the rigid regular hose much more efficiently with the same pressure. Compression garments should be appropriately fitted by a specialist so as not to restrict movement of the limb.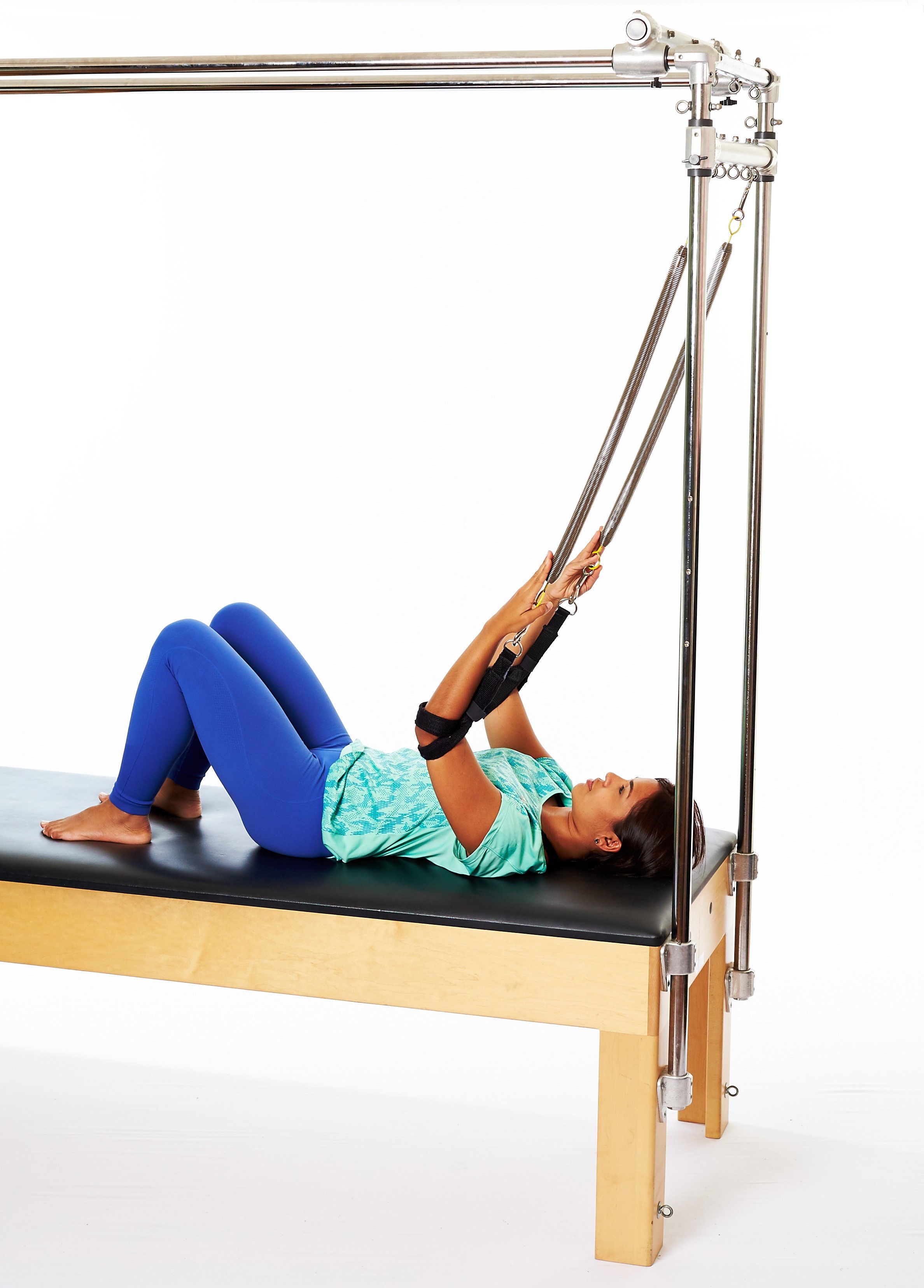 Carla Mullins is co-director and co-owner of Body Organics, a multidisciplinary health and body movement practice with 3 studios in Brisbane. Carla is a Level 4 Professional Practitioner with the APMA and has also studied pilates with PITC as well as Polestar. She also has a LLB (QUT), M. Soc Sc & Policy (UNSW), Diploma Pilates Professional Practice (PITC), Gyrotonic Level 1, CoreAlign Level 1, 2 and 3 and Certificate IV in Training and Assessment. She is currently undertaking a Bachelor in Occupational Therapy at the University of Queensland.