Reformer Leg & Footwork for Those With Bad Backs
Tue,Apr 19, 2016 at 12:29PM by Carla Mullins
Are leg and footwork on the reformer appropriate for people with bad backs?
Leg and footwork on the reformer have become somewhat standardised. I can't tell you the number of times teachers have told me that they have clients do this reformer work as an easy warm-up or easy preparation for the legs. Comments like this drive me a little spare: partly because I believe if a person is doing an exercise properly it is never easy; partly because leg and footwork on the reformer is such a poorly understood series of work. Another aspect often not considered adequately is that for those with bad backs, is reformer leg and footwork an appropriate exercise?
Are reformer supine feet and leg exercises good for a bad back?
In my opinion, supine leg and foot work on a reformer is not appropriate for many people, particularly those with "bad backs", disc injuries or SIJ problems. My reasons for this are:
//   Extending the legs in supine might allow the pelvis to anteriorly tilt and the lumbar spine to relatively extend. A number of back conditions may not tolerate this, including stenosis and facet joint irritation. The argument of maintaining a neutral spine during this movement is not valid, as I discuss later when we talk about the nutation of the spine in movement.
//   In supine, the person has the weight of their organs and abdominal muscle/fat pressing down onto their spine, which may be unstable or aggravated. This can cause pain and aggravation on compressed nerves and discs. Think also for women with large cysts and so forth which are surprisingly common and can be quite heavy and uncomfortable.
//   Ultimately, supine is not a functional activity for many people, and therefore it is not training these people to work safely and practically as they would if they were moving around upright and in response to gravity.
//   When a person walks and moves their femoral head spirals in the acetabulum; this results in a slight movement of the sacrum in a rhythm to the ilium. If a person activates their transverse abdominis, their sacrum will stiffen, and this practice means that people are not achieving a proper nutation of the sacrum and lumbar spine. Instead of allowing the femoral heads to spiral in the socket and therefore facilitate the nutation of the sacrum, people tend to try and initiate the nutation from a slight tuck in their pelvis.  Much of these concepts are explored and applied in detail in the Anatomy Dimensions Lower Limb Courses, check our shop for  courses near you.
When would I put someone with a bad back on the reformer to do foot and leg work?
If a person is able to activate their hamstrings well, then the legwork can be appropriate as part of a well balanced program. We also forget that there are ways to use the reformer springs to create traction, in order to help people get a pull on the ilium and give that sense of space in the lumbar spine. I particularly love this exercise for my clients with some types of lumber disc problems ( particularly the tuckers) as  spondyloloisthesis and spondylolysis   .
Traction variation on the reformer
This exercise uses the caddie Velcro thigh and ankle straps that come standard with a Balanced Body Caddie (but can also be bought separately, and I like the colourful, and longer ones from Elements). The straps are the Elements by Momentum World, pictured below, and are one of the most useful pieces of studio apparatus.
We have also found the lumbar belt a simpler way to achieve this traction option.
Steps for traction variation on the reformer
1. Take the small ankle straps and attach them around the foot bar so that the D-loop is facing the reformer carriage.
2. Take the long thigh straps and attach them together by slipping one end of the strap through the other D-loop, and attaching the Velcro together. Then, place the straps around the person's hips with the D-loops facing outwards at the person's anterior superior iliac spine (ASIS).  Depending on the person's hip size, the straps will have to be adjusted to sit as needed. In the image below, you can see how the straps fit.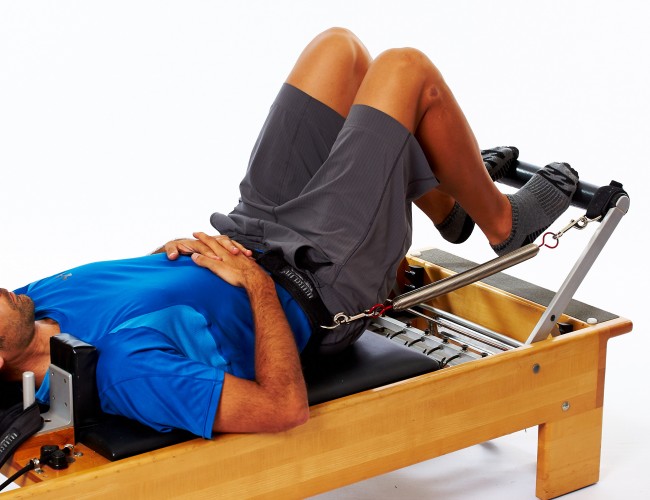 3. Take the short red springs from the caddie and attach these to the D-loops at the hip and the D-loops on the foot bar (see image below).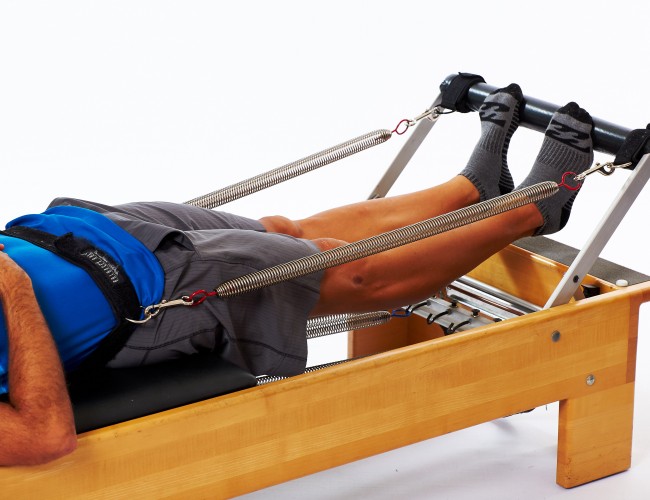 4. Have the person perform the normal foot and leg work series at the appropriate level of springs for that person. The waist loop springs should create a good traction for the person and relieve lower back tightness and tension.
The attached video also explains the process
https://www.bodyorganics.com.au/wp-admin/post.php?post=26978571119&action=edit
If you would like to find out more about leg and footwork on the reformer, contact Body Organics.  This exercise is detailed more in our Reformer One manual.  The concepts are also explored in the Anatomy Dimensions courses taught in Australia, New Zealand, USA, Spain, South America, India and Sri Lanka.
Carla Mullins is co-director and co-owner of Body Organics, a multidisciplinary health and body movement practice with 3 studios in Brisbane. Carla is a Level 4 Professional Practitioner with the APMA and PAA.  She has also studied pilates with PITC as well as Polestar. She also has a LLB (QUT), M. Soc Sc & Policy (UNSW), Diploma Pilates Professional Practice (PITC), Diploma of Pilates Movement Therapy (APMA) and Advanced Diploma in Pilates Movement Therapy (APMA) Gyrotonic Level 1,Gyrotoner, Jumpstretch Board, Aston Technique level one, Yamuna Body Rolling level one, CoreAlign Level 1, 2 and 3 and Certificate IV in Training and Assessment.   Carla is currently undertaking a Bachelor in Occupational Therapy (Hons) at UQ.