Finger Fatigue in Teenage Girls
Wed,Feb 24, 2016 at 11:41AM by Carla Mullins
Does your teen suffer finger fatigue?
Does your teenager suffer pains in their fingers, shoulders or neck from texting and hand held devices? Body Organics studio Director Carla Mullins talks about the dangers of finger fatigue in an article featured in the Courier-Mail.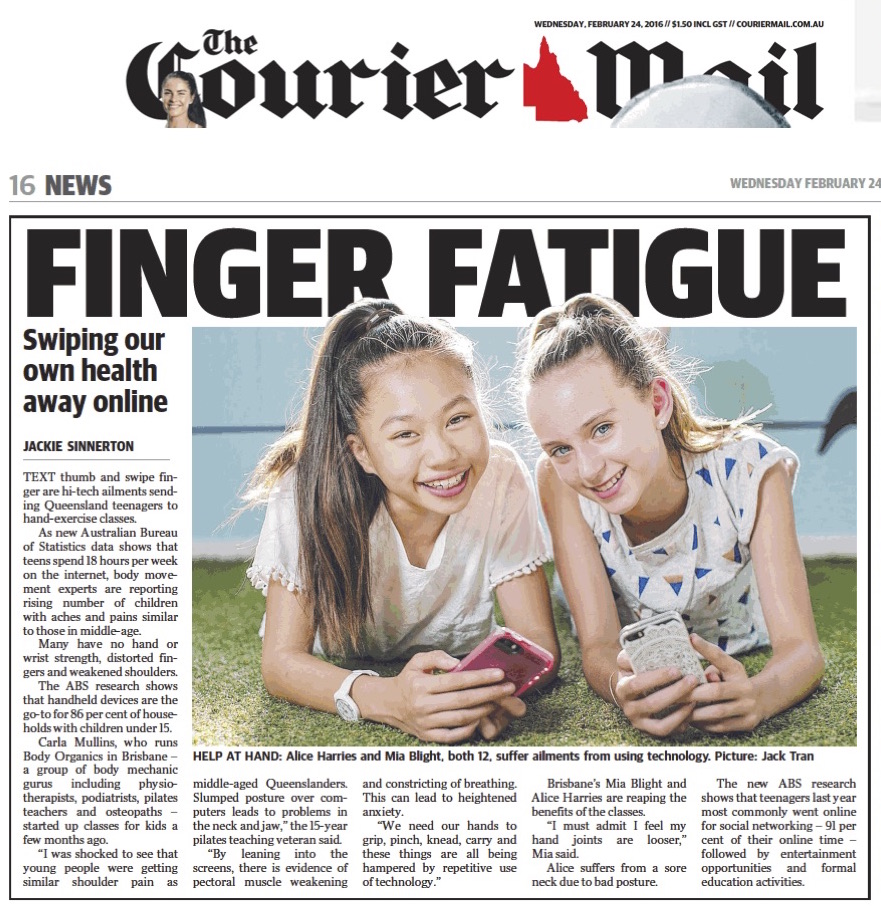 Social media and the internet blamed for rise in number of teens with pain issues more associated with middle age
TEXT thumb and swipe finger are high-tech ailments sending Queensland teenagers to hand exercise classes to alleviate their finger fatigue.
ABS research
As new Australian Bureau of Statistics data shows that teens spend 18 hours per week on the internet, body movement experts are reporting a rising number of kids with aches and pains similar to those in middle-age.
Many have no hand or wrist strength, distorted fingers and weakened shoulders.
The ABS research shows that handheld devices are the go-to for 86 per cent of households with children under 15.
Special classes for teenagers
Carla Mullins, who runs Body Organics in Brisbane — a group of body mechanic gurus including physiotherapists, podiatrists, pilates teachers and osteopaths — started up the classes for kids a few months ago.
"I was shocked to see that young people were getting similar shoulder pain as middle-aged Queenslanders. Slumped posture over computers leads to problems in the neck and jaw. By leaning into the screens there is evidence of pectoral muscle weakening and constricting of breathing. This can lead to heightened anxiety," said the 15-year pilates teaching veteran.
"We need our hands to grip, pinch, knead, carry and these things are all being hampered by repetitive use of technology," she said.
Brisbane's Mia Blight and Alice Harries are reaping the benefits.
"I must admit I feel my hand joints are looser," Mia said.
Alice suffers from a sore neck due to bad posture.
The new ABS research shows that teenagers last year most commonly went online for social networking — 91 per cent of their online time — followed by entertainment opportunities and formal education activities.
Make health a family affair
Mia's mother is Melissa Blight, owner of Brisbane interior design practice Twofold Studio. As well as being a long-term client of Body Organics, Melissa was commissioned for the interior design of all three studios. The original circa 1890 building consisted of a main residence and horse stables, both of which have been converted into stylish spaces for pilates classes, physiotherapy, podiatry and other health services.
Who are Body Organics?
Body Organics has studios in Brisbane at West End, Annerley and Chelmer. Specialised classes for teenage girls are run on Tuesday and Wednesday afternoons at the West End. See our timetable page for more details.
Who is Carla Mullins?
Carla Mullins is co-director and co-owner of Body Organics, a multidisciplinary health and body movement practice with 3 studios in Brisbane. Carla is a Level 4 Professional Practitioner with the APMA and has also studied pilates with PITC as well as Polestar. She also has a LLB (QUT), M. Soc Sc & Policy (UNSW), Diploma Pilates Professional Practice (PITC), Gyrotonic Level 1, CoreAlign Level 1, 2 and 3 and Certificate IV in Training and Assessment.